The purpose of this installation art called "el Último Desayuno" was to find a way to make a portrait of my late grandfather through the representation of absence through nostalgia. To do so, I created a static installation representing the everyday breakfast with the most exact detail I would have with my grandparents in Sitges, Barcelona, during summer vacations. I treated absence and memory creating the most exact replica of the breakfast using the same products and food I would eat. But the most important one is the spicy chorizo, the most emblematic symbol of my late grandfather. It also has background sounds, the same I would listen to when I was enjoying that breakfast.
El propósito de esta instalación llamada "el Último Desayuno" fue encontrar la manera de hacer un retrato de mi difunto abuelo a través de la representación de la ausencia a través de la nostalgia. Para ello creé una instalación estática que representaba con el máximo detalle el desayuno cotidiano que tendría con mis abuelos en Sitges, Barcelona, durante las vacaciones de verano. Traté la ausencia y la memoria creando la réplica más exacta del desayuno usando los mismos productos y alimentos que comería. Pero el más importante es el chorizo picante, el símbolo más emblemático de mi difunto abuelo. También tiene sonidos de fondo, los mismos que escuchaba cuando estaba disfrutando de ese desayuno.
"Lost Objects" is a series of paintings where various lost objects that have been found on the street appear on them. The point of these paintings is to deal with the permanence of objects beyond time and people, as well as abandonment and loneliness. The objects that I find are part of a very specific and daily journey that I take every day.
"Objetos Perdidos" es una serie de pinturas donde aparecen diversos objetos perdidos que se han encontrado por la calle. El objetivo de estas pinturas es tratar la permanencia de los objetos más allá del tiempo y de las personas, a la vez del abandono y la soledad. Los objetos que me encuentro forman parte de un recorrido muy concreto y cotidiano que realizo diariamente.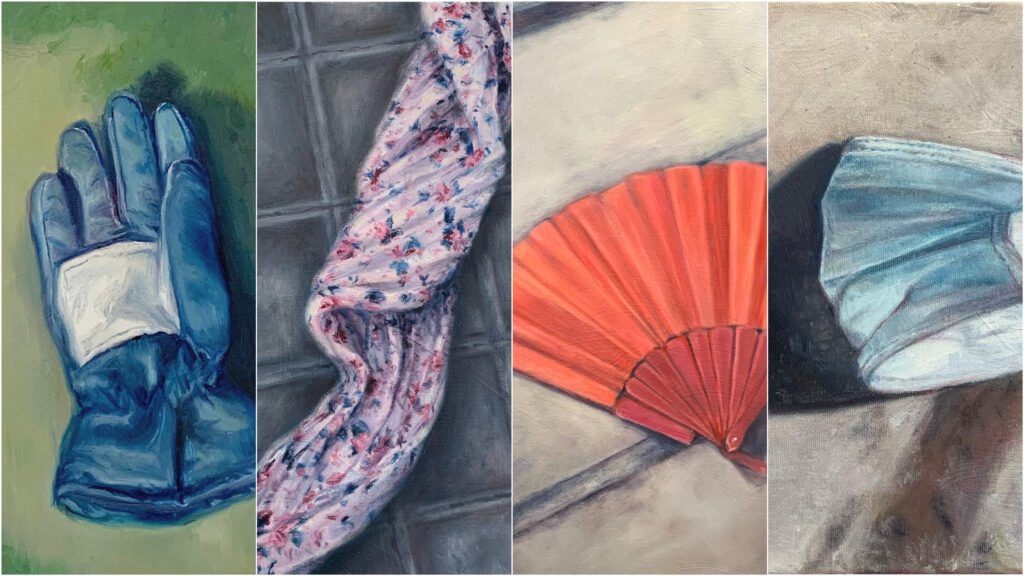 Emma Martín is a 22 year old artist graduate of the Fine Arts Degree in Barcelona, Spain, specializing in painting. Her career started young when she won the 1st prize for art in the international competition "The London Coffee Festival" in London, England. Since then she has participated in several group and solo exhibitions.
Her artistic project revolves around several existentialist and endogenous concepts: the representation of human concerns through subjective vision and everyday life. Absences. She began dealing with the lack of identity in the confinement of COVID-19, and has been developing towards the absence through nostalgia and towards loneliness. In her works it stands out the disfigurements, inexpressiveness and malformations that take us into a personal and sometimes painful universe, where we can also find illness and abandonment. Also interior landscapes and portraits, especially with the representation of personal moments lived in his daily life and everyday feelings.
Her main technique is painting on canvas support (in acrylic and oil), although she also works with installation art as another medium. She is also familiar with the technique of engraving, especially drypoint and monotypes.
Emma Martín es una artista graduada de 22 años del Grado de Bellas Artes en Barcelona, España, especializada en pintura. Su trayectoria empezó joven cuando ganó el 1r premio de arte en el concurso internacional "The London Coffee Festival" en Londres, Inglaterra. Desde entonces ha participado en varias exposiciones colectivas e individuales.
Su proyecto artístico que gira entorno a varios conceptos existencialistas y endógenos: la representación de inquietudes humanas a través de la visión subjetiva y la cotidianidad. Las ausencias. Empezó tratando la falta de identidad en pleno confinamiento del COVID-19, y se ha ido desarrollando hacia la ausencia a través de la nostalgia, y ahora mismo hacia la soledad. En sus obras destacan las desfiguraciones, inexpresividad y malformaciones que nos adentran hacia un universo personal y  –hasta a veces– doloroso, donde también podemos encontrarnos con la enfermedad y el abandono. También paisajes interiores y retratos, especialmente con la representación de momentos personales vividos en su día a día y sentimientos cotidianos.
Su técnica principal es la pintura sobre soporte de tela en bastidor (en acrílico y en óleo) aunque también trabaja la instalación artística como otro medio más. También es familiar con la técnica del grabado, en especial la punta seca y las monotipias.
CASAL MAS GUINARDÓ - BARCELONA
Durante el mes de mayo van a estar expuestas varias obras que tratan el tema de las ausencias, realizadas des del 2020 hasta ahora. Entrada gratuita.
During the month of May will be exhibited several works that deal with the theme of absences, made since 2020 until now. Free admission.
1rst place winner of the international contest "The Coffe Art Project" in London, England, 2018. The prized work is called "Caffeine" (42 x 29,7 cm, mixed medium on paper, 2018).
Ganadora del 1er lugar del concurso internacional "The Coffee Art Project" en Londres, Inglaterra, 2018. La obra premiada se llama "Caffeine" (42 x 29,7 cm, técnica mixta sobre papel, 2018).
Winner of the Honourable Mention in the virtual competition "Face Forward" through the Kaleido application. The winning work is "Noestálgia" (65 x 21 cm, acrylic on canvas, 2021).
Ganadora de la Mención de Honor en el concurso virtual "Face Forward" a través de la aplicación Kaleido. La obra premiada es "Noestálgia" (65 x 21 cm, acrílico sobre tela, 2021).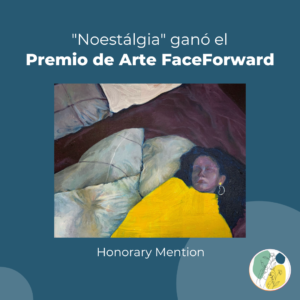 Winner of the 3rd place in the "XXI Exposició i Concurs de Pintura al Passeig de Sant Joan" in Barcelona, Spain. The winning work is "Enferma de Nuevo" (100 x 81 cm, oil on canvas, 2022).
Ganadora del 3r lugar en el "XXI Exposició i Concurs de Pintura al Passeig de Sant Joan" en Barcelona, España. La obra premiada es "Enferma de Nuevo" (100 x 81 cm, óleo sobre tela, 2022).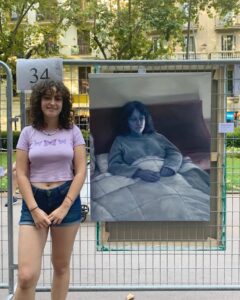 Send me a message through this form or to my email. Let's talk!